One of the things shitlords like to cite as evidence MISANDRY IS REAL!!1! is that when women hit men it's played for comedy.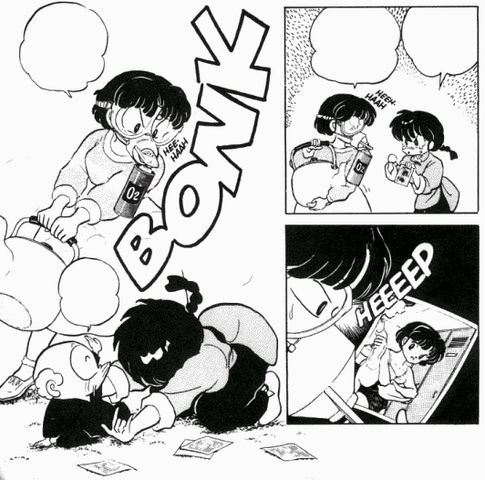 Now, some shitheel thought this was a funny piece of fanart to draw:
"Tomboy BITCH!!" Telling, eh?
For context, the fanart and the page are from Ranma 1/2, a manga/anime that thinking about it is probably transphobic (I don't retain much memory of it, it's been a long time): it deals with a martial artist who falls into a cursed well and, as a result, when in contact with cold water he turns into a girl, whereas hot water turns him back. There is certainly shitloads of gender essentialism in it, though you may be able to make an argument that it does explore gender fluidity in a particularly unsophisticated way. But, anyway, as part of the slapstick Akane–the short-haired girl and Ranma's fiancee–often hits Ranma with a mallet; this is played for laughs. But one of the things about Ranma is that he (let's go with that, as it's the gender he identifies as) is a superhuman martial artist. So are many of the male characters. Akane, while a trained martial artist herself, specifically doesn't hold a candle to any of them. Essentially her beating Ranma up for laughs is comedic because it does no real damage due to her being an inferior fighter and Ranma being superhumanly durable.
So, women's violence toward men is hilarious! Because women are weak and ineffective. Silly little waifs with their silly little weak fists! Biotruth says MEN ARE STEEL MUSCLE ROBOTS and a jackhammer to the head is easily shrugged off as long as it's wielded by a woman! Moreover, said violence usually occurs from a misunderstanding–i.e. the woman is "hysterical" and "overreacting." When the man is hit at all it is because he's humoring her and letting her smack him.
Then there is shit like this:
Thunder boomed again as she strode down the stairs. She walked up to him like she intended to put a blade in his innards. Instead, she jabbed a finger into his chest. "You won't improve my business, or yours, by bludgeoning the customers."
[…]
Nix found himself at a loss for words. He located some only by changing the subject. "You're quite lovely when you're angry. Did you know that?"
"And you're quite small of stature, angry or no," she said.
And with that, she turned on her heel and walked for the stairs. He stood there, sputtering, and she shot him a final withering glance before she ascended.

–Paul S Kemp, The Hammer and the Blade
The key phrase is "you're quite lovely when you're angry." Any moment you see "you're so cute when you're mad!" it's an alarm that a shitlord this way comes. Men probably believe it's disarming and flattering (no); what it is is an attempt to exert control and invalidate a woman's anger. You laugh at a kid getting mad. You laugh at a little dog getting mad. You laugh at a woman getting mad, because she's like a child or a small dog and you don't believe her anger is either legitimate or will cause her to honestly punch you in your worthless fucking face. (Though if she does punch you or otherwise upset you for real it's time to pull out the "hysterical mentally unstable bitch!" cards, at which point she is no longer a delicate waif but a bitch who deserves whatever she gets–rape threats, disproportionate violence, etc.)
You see this a lot in romance too. Romance authors are deathly afraid of their female protagonists coming off as unlikable (and romance reviewers subject said protagonists to unrealistic standards of likability–if she's too shy she's "weak and boring"; if she's ruthless she's "unsympathetic and unlikable" and a bitch). In this genre which focuses so much on women it's of utmost importance to confine women's anger within a framework that keeps her attractive to men.
On the verge of spitting fire for reasons she didn't want to face, she yanked free. Dropping to the ground, she shoved him with all the strength in her diminutive body.
Clearly dazed, Keoni toppled right over, sending a cloud of blood-colored dust shooting into the air, blanketing them both. Ciaran set her shoulders for a fight, but Keoni's apparent surprise at crash landing in the dirt wrought a chuckle from deep within his chest.
[…]
Ciaran expected anything but laughter in response to the shove. Yelling, an answering shove, perhaps a smack to the cheek; those she could deal with and remain righteously angry. His amusement shamed her. Keoni had been wrong to kiss her without permission but she'd been wrong not to tell him so rather than pushing him down. Flashing a contrite expression she held out a hand to help him up. He reached out to accept without comment.
Her personality had begun to change in some very nasty ways recently. Ciaran knew she needed to get a handle on her volatile emotions before she no longer recognized herself and others stopped wanting to be around her.

–Shirin Dubbin, Dream's Dark Kiss
He kisses her without permission, laughs at her anger, and she is ashamed of that anger because.
"Do you? Huh?" He shook his head, crossing his arms and tucking his hands beneath them. "I was your choice. Whether you realize it or not, you sent out a mating imperative with your distress call… We'd have been there. Don't you understand? You, your subconscious or whatever wanted a life mate, and you wanted me bad. Something deep inside you wants to be loved, manu. All you have to do is let me."
She stared back at him. Dark emotion swirled inside her aura, clouding her thinking, and she said what she supposed she must to protect herself. "Fuck you."
The man growled and reached for her. She snatched the frying pan from its place on the stove. Keoni knocked it aside, sending it sailing across the room so fast she could only gape at her empty hand. Bang. A cabinet door dislodged and slid to the floor, crushed by the rocketed pan.
She screamed and rushed him. He took her by both shoulders and lifted her off the ground while she kicked and screamed a stream of expletives cruel enough to gut punch him in a one-two combination.
She knew the words wounded him. She didn't care.
Keoni managed to set her down on the countertop and push himself between her legs, putting an end to her barrage of kicks. Ciaran pushed against him until he imprisoned her arms by firmly pressing them to her sides.
She heaved with the exertion, making the mistake of meeting her man's gaze. Hurt darkened his eyes.

–Shirin Dubbin, Dream's Dark Kiss
So, this is pretty bad. Not the quality of writing, though the less said of that the better, but the dynamics of everything. Ciaran, who for some reason has a man's name and I don't think that's an attempt to subvert gender binary, is an abuse survivor: her ex beat her up badly, and she's trying to recover her confidence and sense of self. In the middle of working her psychopomp thing she meets Keoni in "the Dreaming" (the author is, I understand, a Neil Gaiman fan) who rescues her from a rape attempt (sigh). Keoni turns out to be one of those shitheel species who's into "mating" with women for life.
What we've got in these two scenes is Ciaran's anger being invalidated and attributed to her trauma–dark and "volatile emotions" she must get under control rather than legitimate reactions to, respectively, being kissed against her will and being told that she's someone's mate for life now, both of which I'd call pretty enraging. Worse, Keoni insists that she "wanted [him] bad" due to her subconscious, which is basically rapist logic. More telling is that on both occasions when Ciaran is violent toward Keoni, he laughs it off or is able to render her ineffective without effort. The language of him restraining her has sexual assault written all over it, from "[pushing] himself between her legs" to manhandling her. And, of course, none of her kicking or punching inflicts any real damage. The message is clear; he is a strong manly man and she is but a weak incapable waif in need of his protection (from her own volatile emotions, no less).
"You testing me, tita? Huh? 'Cause you can stop now. I'm not gonna hurt you, hit you, curse you, belittle, demean, or do anything to make you even a little uncomfortable. None of it. I'm a man, tita. A real one. And I know it's not what you're used to, but you better get acclimated real quick. Unless you've decided to live a half life, cut off from one another in a warped version of what life mates are meant to be, you're gonna have to cut this shit out."
He walked a furious path around the granite island and came back around. Placing his big hands on either side of her, he leaned in.
This encounter is followed by her unburdening her soul, him laughing at her while she cries (really), and them having sex. Healing sex that is, which does away with her trauma because he is "the One" and therefore is in possession of a healing cock. In decent people parlance having sex with an abuse survivor who just unburdened herself to you might be called gross and creepy, but in paranormal romance terms it's apparently a sign that you are her one true soulmate. He is a real man, you see, and he won't make her uncomfortable in any way except by forcing his "life mates" batfuckery on her,  invading her personal space, pushing himself between her legs, and exploiting her emotional vulnerability for sex. The only reason Ciaran could possibly be angry at any of this is that she's a broken bird and not thinking clearly. Why, if she hadn't been abused and was her old self, she'd have embraced sexual assault and forced marriage straight away.
All those "volatile" emotions are so unattractive in a lady. If you're wondering, Ciaran's weapon of choice really is a cast-iron pan.
One of the reasons Jormungand is so easy to like is that women's violence in it is real and lethal, whether personal or by proxy. Koko orders you dead, you'll die (she's also a good shot if it comes to that). Valmet comes at you with a knife, you'll die, and she'll slice and dice her way through a compound of gunslinging men to get to you no problem. Nobody goes "teehee, what a cute little waif" at Koko–she is on the FBI's blacklist and governments around the world are shit scared of her, with good reasons. When some British mercenaries make gross rapey jokes about her and Valmet, among other things, Koko fires them and later her team slaughters the whole lot. Her contempt for them is narratively validated; they wind up as bloody exploded chunks and nobody is going to tell Koko she was just being hysterical or unduly volatile. This is a work in which women, very simply, are taken seriously.
Taking women seriously–and by extension, women's violence–makes men uncomfortable, which is why you'll see the occasional crybaby bawling on twitter that the #killallmen hashtag is horrible and awful: he has been made uncomfortable by the kind of joke that's usually directed at women. He is frightened that if given equal rights women will treat men just like men have been treating us. Hence the patriarchal, soothing mold of dismissing women's anger as childish tantrum, women's violence as a joke.
This is why we laugh when a woman yells abuse at a man. It's not misandry. It's misogyny.